---
Penatanguishene, July 2011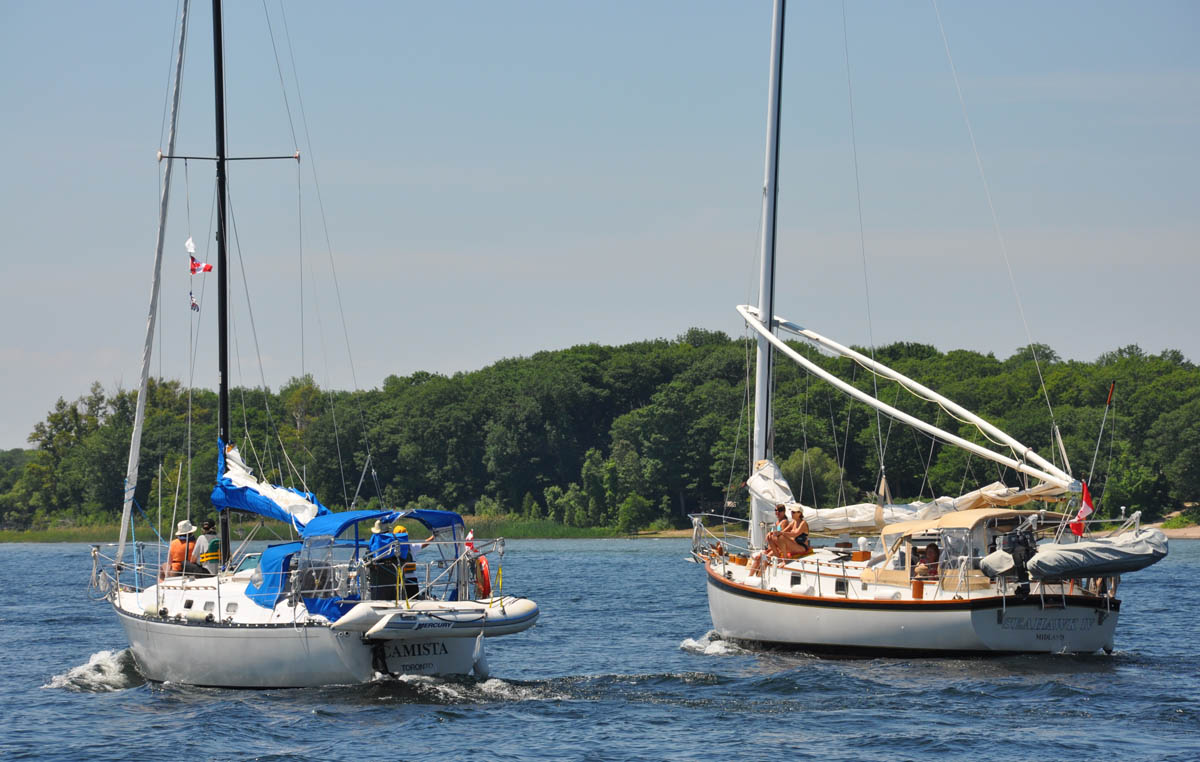 Rendezvous 2011 was held at Beacon Bay Marina on July 9th (Saturday) and July 10th (Sunday) , 1 37, Champlain Road, in Penetanguishene aka Penetang.
Rendezvous activities began with the arrival of members and guests on Friday afternoon and evening.
Past Commander Art Hawkes and Beth Hawkes arrived aboard Seahawke IV. Past Commander Mike Seitz arrived aboard Sirus Sal. Mark Bialkowski and Karen Phillips sailed across the bay from Meaford aboard Summer Duck, while Camista, crewed by Fred Quinton and Sally Whittle was tied up, at the ready, across the way at Hindson Marine.
Resident at Beacon Bay were Rod Ackroyd and Joani Horvath on board Narissa, as well as Wayne Young and Linda Ferraro on board Gallivanting.
Other members and guests arrived by motor vehicle, including one motor home.
The official Rendezvous activities began on Saturday morning with coffee, accompanied by an assortment of sweet loaves and fresh fruit, followed a short time later by pancakes and sausages with maple syrup. Following breakfast, all headed out on the waters of Penetang harbour for an afternoon of boating. Five sailboats were involved in the outing, including;
Seahawke IV
Camista
Summer Duck
Sirius Sal
Gallivanting
Activities included an exercise in navigation, swimming and some just plain cruising.
At five o'clock, all were promptly back at the marina and anxious to partake in the Commanders Punch which had been concocted just in time. Happy hour was followed by a BBQ, western style. Oh yes, did I mention, the theme for the evening was "Cowboy/Cowgirl". Let it be known that 10 litres of the Commanders Punch was consumed in short order. The BBQ menu included hamburgers/cheese burgers, potato salad, homemade beans, Sally's salad and pies for dessert.
As the sun disappears over the horizon, the mosquitoes get their turn to eat and consequently us humans must seek protection. Most of us return to our boats for a night cap or two.
Weather wise, Sunday morning brings a carbon copy of Saturday. Quite literally, a big sky. The only weather concerns expressed were about the lack of shade. The menu for Sunday morning differed from Saturday morning only in that we added the homemade beans that we didn't eat the night before and the Sunday pancakes contained blueberries. Following breakfast, Past Commander Mike Seitz conducted the blessing of the boats. The remainder of the day members and guests were free to explore the area. Unfortunately, Mark and Karen, aboard Summer Duck experienced engine problems on their way back and had to be towed into Meaford.
On behalf of the Guelph Power and Sail Squadron, and in particular on behalf of all who attended this event, I would like to express my appreciation to the dedicated volunteers who made the event a most successful one. Well done.
A special thanks to Stephen Cartwright and Gerard Lyons of the Midland Power and Sail Squadron for taking the time to drop by.
To those who attended, if you have any suggestions for Rendezvous 2012, we would very much like to hear from you. Feel free to contact myself or any member of the Bridge.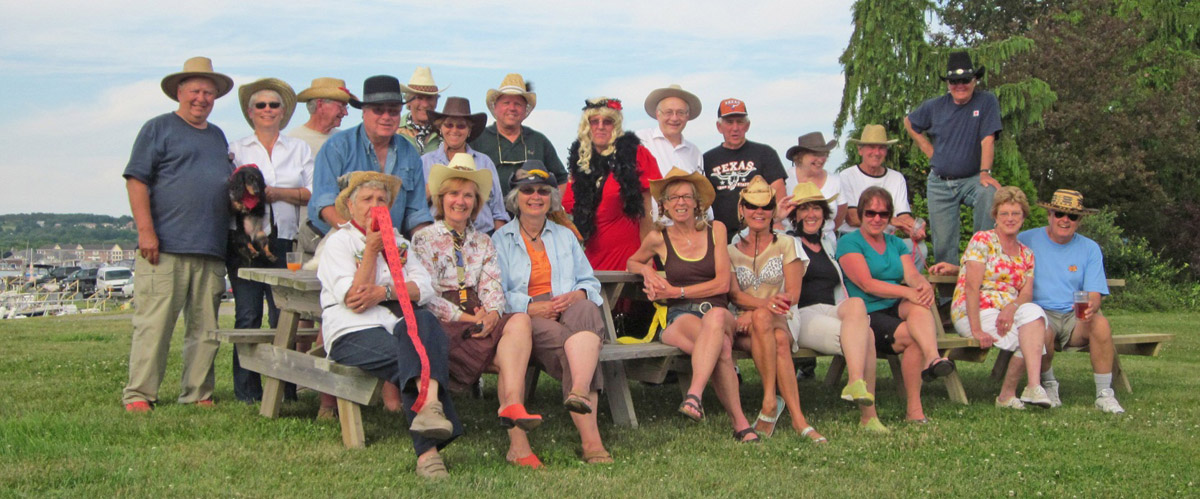 Also on behalf of the Guelph Power and Sail Squadron, I would like to thank Mike and Robin of Beacon Bay Marina for hosting the event. All staff were most helpful and pleasant.
Wayne Young
Guelph Power and Sail Squadron