---
Fifty Point, Lake Ontario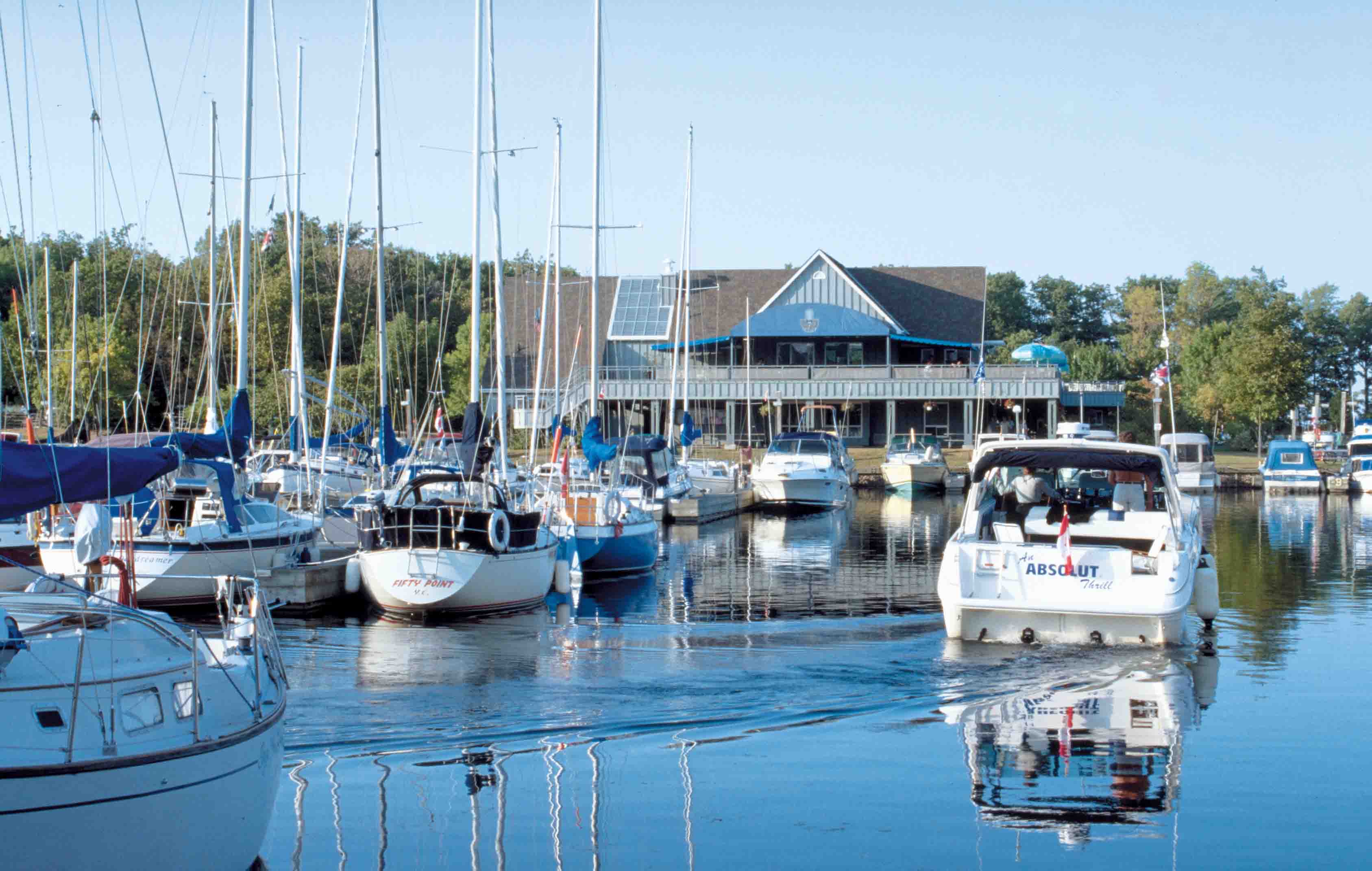 The 50 Point Marina is located in the 50 Point Conservation area
The Fifty Point Conservation area is located on Lake Ontario near Stoney Creek. The marina is one of the best on Western Lake Ontario. The park also includes camping, fishing and a very nice beach.
1479 Baseline Road Winona, ON.
Phone 905 643 2103 or 905 525 2187
For more information go to; http://www.conservationhamilton.ca/parks/visit/fifty_point.asp
How to get there!
By Road
QEW towards Niagara, exit 50 Road (just Past Stoney Creek), follow the Marina signs.
---
Road entrance - let the nice folks know that you are attending our rendezvous
---
By Water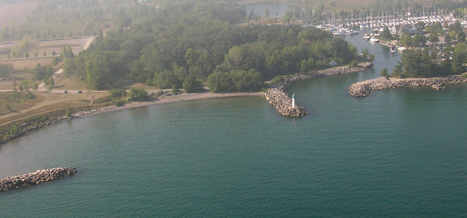 The entrance to Fifty Point Marina is located at;
Latitude 43° 13.62' N, Longitude 079° 37.33 ' W. The entrance is marked with a light (see above photo).
Use caution when entering channel if it's choppy
Fifty Point is about 26 nautical miles South-Southwest of Toronto.
CAUTION: Be sure to check your charts. The Canadian Armed Forces operates a small arms range just to the east of the entrance of Fifty Point Harbour. The restricted area is cordoned off by many yellow spar buoys.
The Marina monitors Ch 68. Please call on arrival for slip assignment.
Squadron members will also monitor 68 and assist with docking.
---
Accommodations
Camping / RVs
Camping is available within the Marina area.
It is highly recommended that reservations for RV's be made ASAP
at 905 643 2103
Family Camping (per Individual Site, per night)
Non-service $26.00, with tax $27.56 ( 2007 prices, 09 may be slightly higher)
Camping/Boat Launch Additional Fee per night $ 6.00 with tax $6.36
If you are tenting, please contact Barb at the marina office at 905 643 2103
If you have any difficulty, please contact Ernie at 519 822 9193 or email.
Hotels
There are several hotels in the immediate area of Fifty Point Conservation Area.
It is highly recommended that reservations be made ASAP as rooms in the area go quickly.
Fifth Wheel Truck stop - rooms are fine and clean. $59.99 for 1 double bed, $69.99 for 2 double beds.
North service Rd. Grimsby, 905-945-0300
· Casablanca Winery Inn - very nice, but pricy at $150/night. 4 Windward Dr. Grimsby Toll free 877-446-5746
[ http://casablancawineryinn.com/ ]
· SUPER 8 MOTEL - nice and realistic pricing.
11 Windward Dr. Grimsby, Toll free 888-561-7666 [ http://www.super8grimsby.com/ ]
· · Cherry Beach Motel, looks rough on the outside, rooms are re-modeled and clean, no A/C. $59.00 tax included, no credit. 423 North service Rd., Stoney Creek, 905-662-1599/1726.
Stop 50 Restaurant Gas Bar & Motel 1310 South Service Rd, Grimsby 905-643-1151. Its another truck stop.
---
Boat Slips
The cost of docking at Fifty Point is $1.50 per foot. ($30.00 Minimum ) Space is limited.
If you require docking, please contact Barb or Nancy at the marina directly
at 905 643 2103 or 905 525 2187 or Ernie ASAP.
To find out more;
Call Heather Fitzimons at 519 821 3101 or Ernie Whalley at: 519-822-9193
---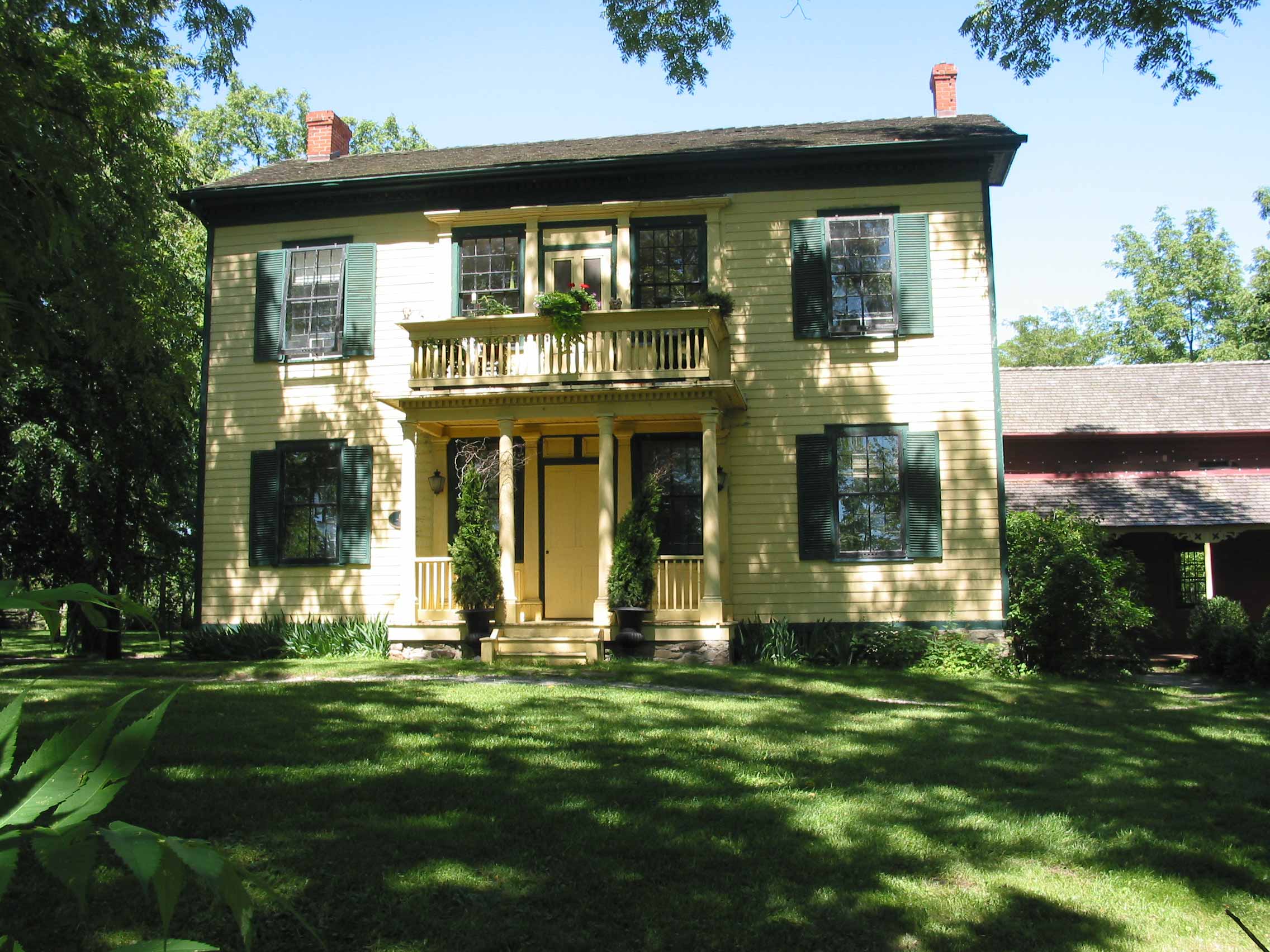 Many of our social activities will take place at the historic Ingledale House
Tents will be set up across a foot bridge (to the right) in this area.