Promoting Safe Boating through Education
The following are Canadian Power and Sail Squadrons courses.
The Guelph Power and Sail Squadron will offer a selection of these courses in 2016-2017.
courses offered will be based on demand and the availability of instructors.
---
---
You will be able to register online for courses that are currently scheduled
The "Register Online" buttons below (if working correctly), will take you directly the

national Register page
for the desired course.
If not, please go: http://www.boatingcourses.ca/ ,
select -Ontario, then -Guelph. This page will give you a complete listing of all CPS courses that are currently being offered by the Guelph Squadron.-
Select the course desired and then Register
---

Boating 1 - ( Boating Basics) May 03 to May 24 2017
What you need to know to get your Pleasure Craft Operators Card (PCOC)
Topics: Boating and the Law, Know your Boat, Equipping your Boat,
Safety Awareness, Marine Rules of the Road, Aids to Navigation System , Trailering and Transporting
,
Getting underway
,
Anchoring,
Docking, Locks
,
Water Related Activities,
Preventive Maintenance, Weather Tips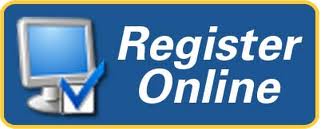 ---
Boating 2 Beyond the PCOC

-

Course started Oct.19th, 2016 - Completed
The PCOC makes sure you have immediate navigation and safety skills but it's just the beginning of what you should know when you get on a boat. In the second of our Boating Series, you are introduced to the art of navigation, anchoring, ropes, lines and knots – not to mention what to expect when the boat is moving under power. This course also has a number of optional topics that will be taught depending on your interests; these include towing, trailering and a check list for layup and launch.
Suggested Prerequisite: Boating 1: Pleasure Craft Operator Card (PCOC)
Duration: 9 weeks ( evening classes) last evening is optional
Course completed -Registration closed
---
Boating 3
- Introduction to Navigation
The third course in the series explores navigation further as you learn how to plot and label on paper charts as well as what the skipper should be doing before setting out and when under way. Handling a boat under sail, as well as your environmental responsibilities and electrical hazards.
Optional topics include tides and currents, canals and locks,
Suggested Prerequisite: Boating 2: Beyond the PCOC
course started on January 11th 2017, to March 29th
Course underway -Registration is closed
---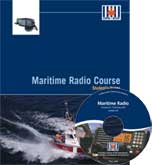 - April 05 - April 19th. 2017 ( 3 evenings)
Successful completion will give you your "Restricted Operator's Certificate", good for life.
Successful completion of this course you will give your "Restricted Operators Certificate", which is required by law. You will also learn emergency radio procedures that will significantly enhance your safety, as well as Digital Selective Calling and the Global Maritime Distress and Safety System, (DSC & GMDSS).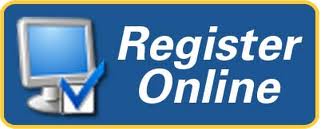 Course completed - registration is closed
---
A refresher course is recommended
for those who have a "Restricted Operator's Certificate" issued before January 1st, 2005. There have been significant advances in VHF radio technology, i.e. "Digital Selective Calling". This feature enhances your ability to communicate your location in an emergency situation.
"Digital Selective Calling" could save your life in an emergency.
---
If you are interested in taking a CPS course and it is not currently being offered, please let us know.
This information is very helpful when planning future course offerings.
Pl
ease Email us: Nick Wenzler

All suggestions are welcome.
---
The terms wind, waves, fog, lightening and storms all cause concern for boaters and rightly so. The weather should always be on the mind of the safety conscious boater.
The new CPS Weather course focuses on Mid-latitude weather.
"The mid-latitudes are a war zone, where enormous air masses battle one another along fronts and powerful storm systems that travel across the continents, lakes and oceans." Source: United States Power Squadron Manual for the "USPS Weather Course".
The study of weather is both fascinating and satisfying. The skills that you will develop from this course will serve you for a lifetime. The course is basically a general weather course and it is just as much fun for non-boaters as it is for boaters.
Duration: 6 weeks (6 evening classes)
The next "Introduction to Weather" - Course Date TBA.
---
Electronic Courses
Electronic Navigation
- Chart plotters are becoming more and more commonplace with recreational boaters. GPS technology has contributed significantly to our ability to navigate while out on the water. You will learn about hand-held and built-in GPS and Chart plotter instruments and become familiar with the many features and capabilities of these devices. Increase your confidence and safety with electronic navigation.
Duration: 8 weeks (8 evening classes)
The next "Electronic Navigation" - Course Date TBA.
Radar for Pleasure Craft - Learn how Radar can enhance you safety, especially in low visibility conditions, i.e. night time, fog. Learn to navigate using Radar and how to determine where you are.
Duration: 4 weeks (4 evening classes)
Elective Courses
Sail - The course deals exclusively with the knowledge required to operate a sailboat safely. Emphasis is placed on how a sailboat works and the special terminology associated with sailboats, sailing, and practical seamanship.

Duration: 8 weeks (8 evening classes)

Extended Cruising

- This course helps establish the skills required for you to seek distant shores. Offshore sailors must be able to fill the roles of helmsperson, navigator, meteorologist, shipwright, radio operator, cook, sail maker, mechanic and diplomat. Cruising is a most rewarding and enjoyable experience when you are properly prepared.

Duration: 8 weeks (8 evening classes)
Boat and Engine Maintenance
- The enjoyment of boating includes both the pleasure of using the boat and the satisfaction of properly maintain it. Your offshore safety is directly related to how well you maintain your boat on an ongoing basis and your ability to resolve issues while you are out on the water. Get to know your boat and learn how to resolve issues.
Duration: 8 weeks (8 evening classes)
---
Advanced
Courses
Seamanship
- While this course builds on traditional navigational concepts and techniques learned in Boating Essentials, it also covers the hazards of weather, wind, waves, tides and tidal currents as well as emergencies on the water.
Duration: 8 weeks (8 evening classes)
Recommended pre-requisite: successful completion of "Boating Essentials".
The next "Seamanship" Course begins - Course date TBA
Advanced Piloting - As is suggested in the course name, this is an advanced course, which takes up where the Seamanship Course left off. If you plan on going out of sight of land, this course is for you. You will be taken out of the realm of conning and visual plotting to coastal cruising out of sight of land, navigating in tidal waters, dealing with current, standing clear of danger, and determining position by visual observation or with the use of electronic devices. Your chart work will be developed to standards recognized in the maritime industry. You will learn how to navigate in the case where your electronic navigational tools are not available.
Duration: 8 weeks (8 evening classes)
Recommended pre-requisite: successful completion of "Seamanship".
Junior Navigator - This the first of a two-part program of study in offshore (open coast) navigation. It is designed as a practical, how-to course using GPS for offshore navigation with sun sight taking using a sextant as a backup technique. The more advanced techniques for other celestial bodies and sights are for study in the subsequent Navigation Course.
Duration: 14 weeks (14 classes)
Recommended pre-requisite: successful completion of "Advanced Piloting".
Global Navigator - Global Navigator is the second part of study of offshore navigation. It further develops the student's skills and understanding of celestial theory. The student is introduced to additional sight reduction techniques for bodies other than the sun. The student develops greater skill and precision in sight taking, positioning and the orderly methods of carrying on the day's work of a navigator at sea.
Duration: 14 weeks (14 classes)
Recommended pre-requisite: successful completion of "Junior Navigator".
---
All of o
ur courses are held at:
Centennial Collegiate
289 College Avenue West
Guelph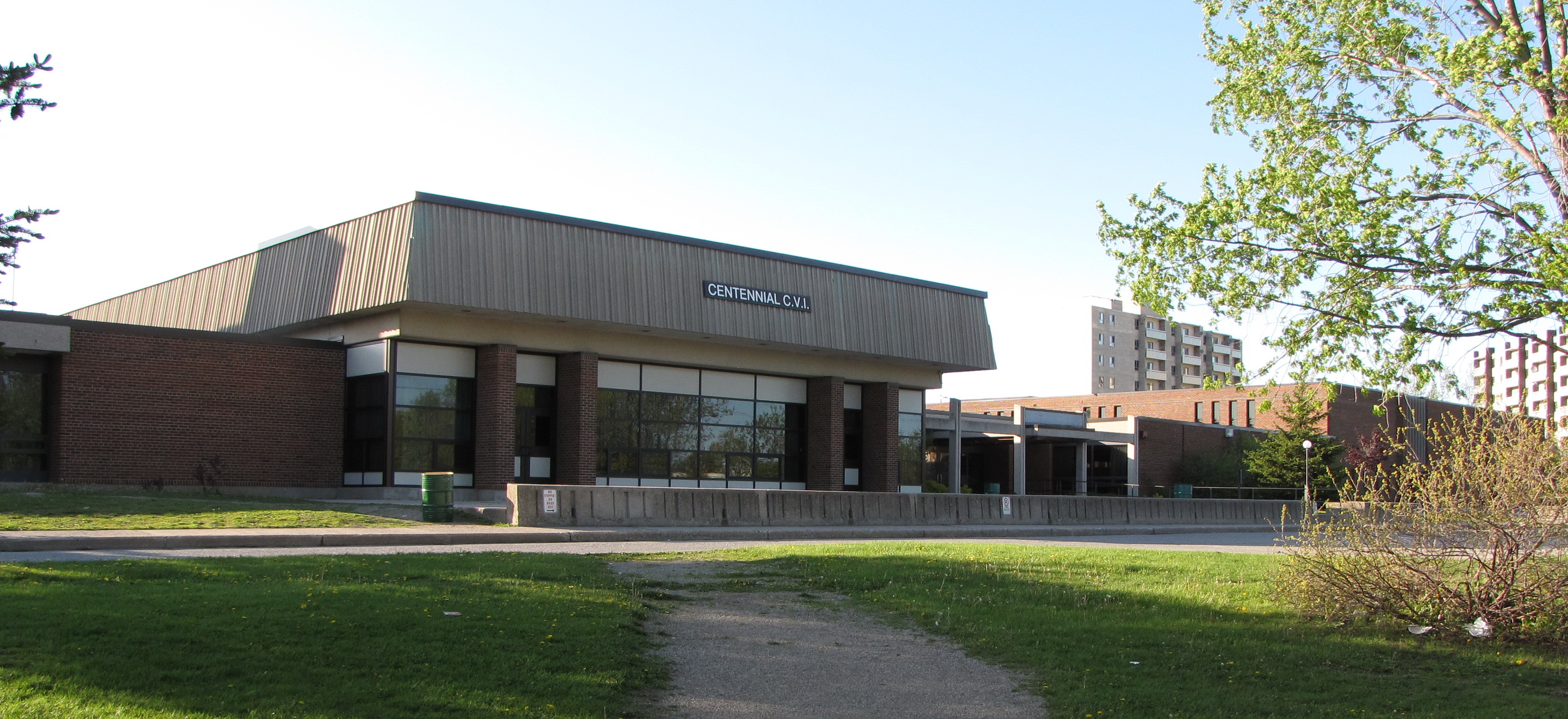 Parking is located on the South side of the building, wher
e you can also enter the building. You will need to walk to the North end of the building for the Squadron classes. Classes are held on Wednesdays from 7:30 PM to 10:00 PM.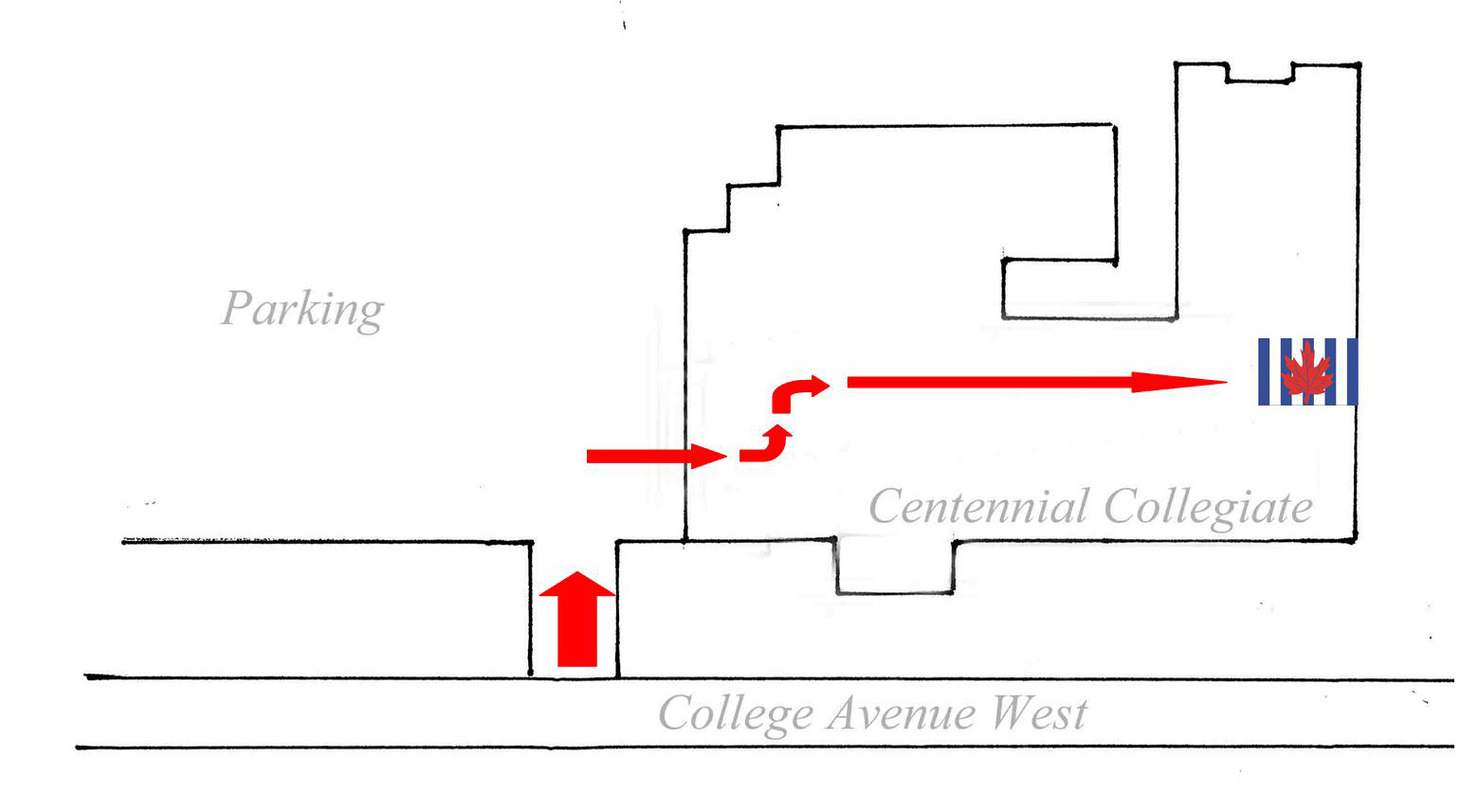 At the Guelph Squadron, we believe that knowledgeable boaters tend to be safe boaters. The Squadron is a non-profit, all volunteer organization dedicated to promoting safe boating through education.
We recognize the importance of your family's safety when out on the water and would like to share our knowledge and experience.
All of our courses are classroom courses. All of our instructors are qualified and many have extensive experience on the water.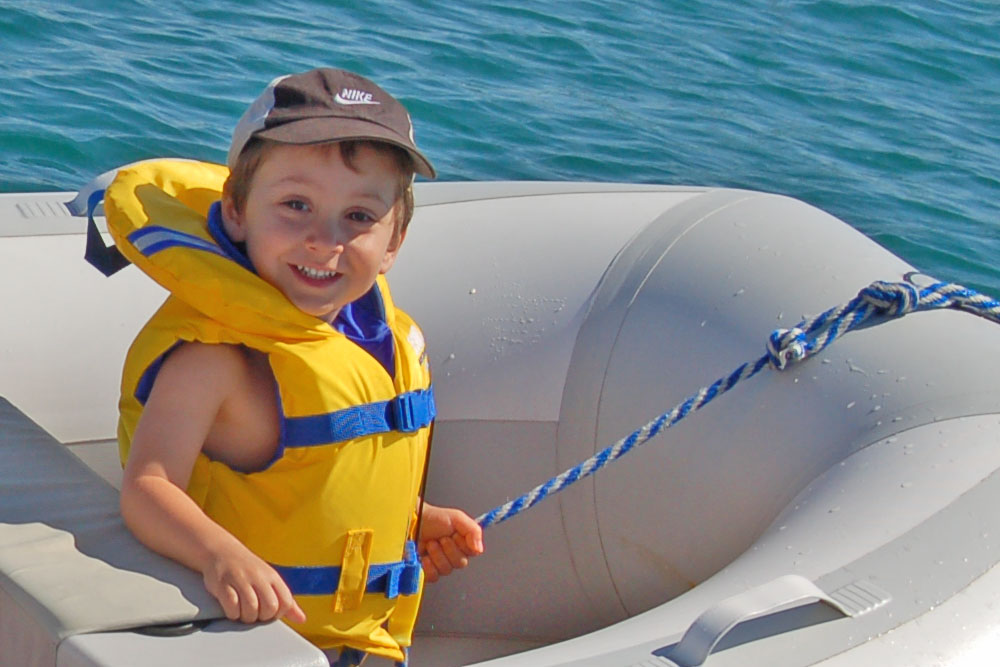 This little guy in the dinghy is wearing an approved life jacket. His life jacket has a collar which is designed to keep his face out of the water.
---
Some feedback:
"Mike and I would highly recommend the Boating Course* to any or all novice boaters, would-be boaters or curiously seekers."

"Honestly, Mike and I were completely blown away by the outstanding teaching and top level information we received. Thanks really goes to all your volunteers. Truly impressive!"

Mary Vanders Woude,

Guelph
* the "Boating Course" is now "Boating 2" -after PVOC (2016)
---
"Guys, I want to thank you for your great courses. I will be putting all to practice in the coming few days; a departure from Toronto to New York, and then on to the Azores, Portugal likely after that. I may get few sun shots in.

Thanks again,"

Grant Henry
---
---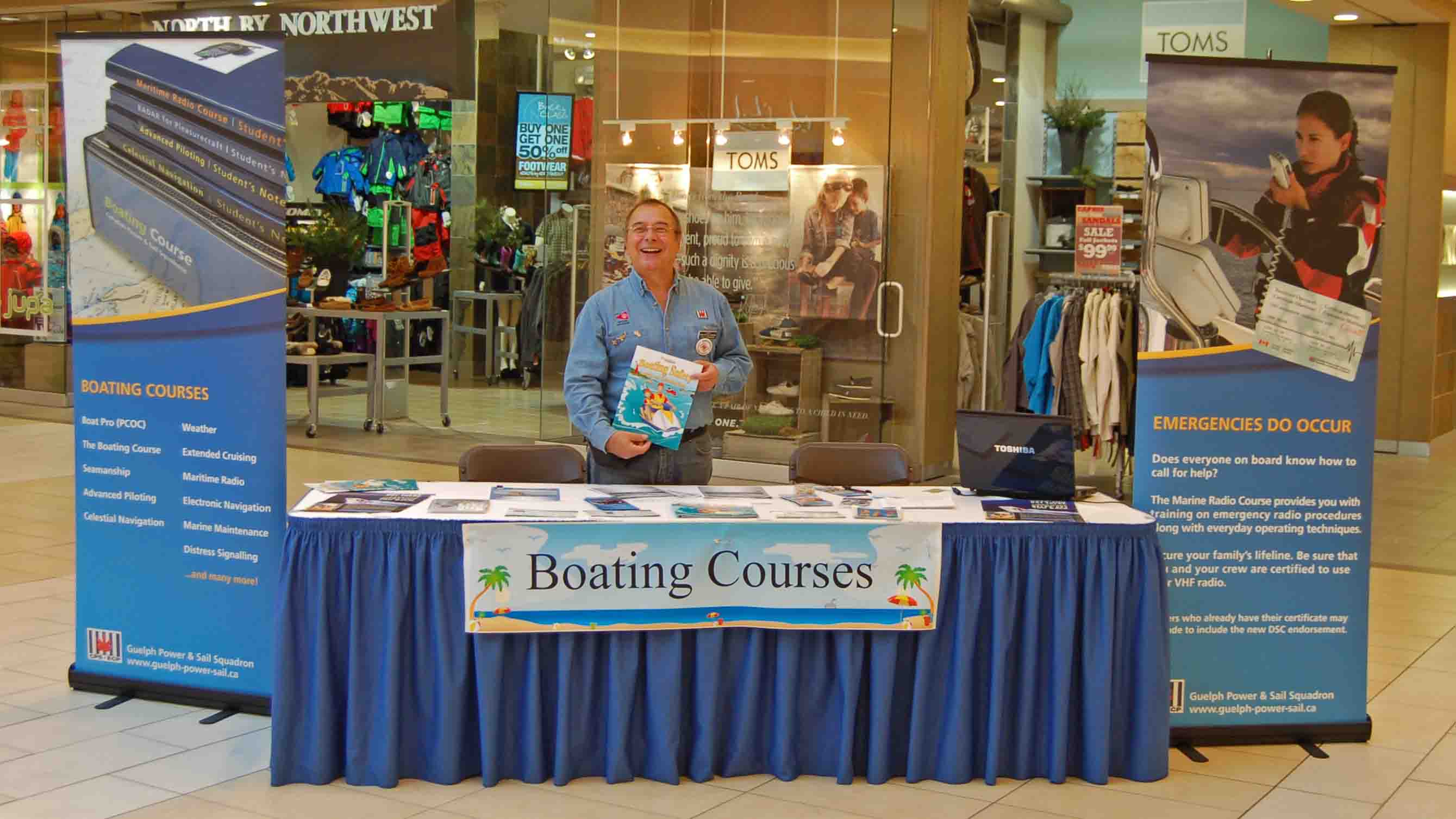 ---
A display at stone Rd. mall with Mark P. on deck
---